You got a Nexus Memory card for DC? Great! You'd like to use it's feature to connect with a PC to either save or probably modify your savegames, or you'd probably like to download the latest savegames from the INET and bounce them onto your Nexus card? I bet you want to. The only problem you got is that you don't want to spent 20 bucks on the link-cable? Or you can't find a place that sells these, or they are sold out? Chill out, here's the solution - Simply build your own freakin' link-cable.

All you need is a SUB-D 25 pole plug, a piece of at least 6-pole and some soldering skills, that's all. The problem with the plug on the nexus card is that it's a non-standard plug so you probably won't find it in electronic-stores. Don't worry, you can easily solder directly on the card.

WARNING - If you don't know how to solder or if you have problems when connecting your stereo either leave the work to a friend who knows what he's doing or buy the cable. You could probably destroy the card if any of the connections is wrong.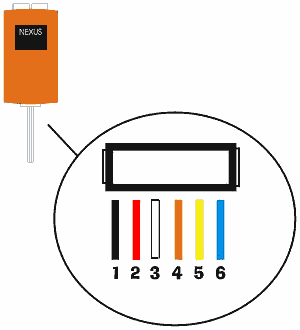 This picture is a scheme of how a bought cable looks for real. When you look at the card from above you'll see these wires.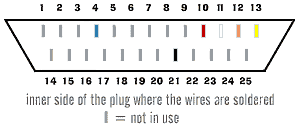 This above picture shows the proper wiring of the parallel-port plug.
Here's the wiring once again, this time using numbers.
| | |
| --- | --- |
| PARALLEL PORT PLUG | NEXUS CARD PLUG |
| 4 | 6 |
| 10 | 2 |
| 11 | 3 |
| 12 | 4 |
| 13 | 5 |
| 21 | 1 |
With this information it should be know problem to build a cable. As I said earlier you probably won't find a plug that'll fit into the Nexus-card. No big deal actually, you can open the card and solder 6 wires on the card and lead them outside. You're free to use whatever you want, my cable is 3 meters long and I don't have a problem when transferring files.
Software:
You can find the proper transfer software as well as loads of savegames on the official EMS website: http://www.hkems.com
You can find a lot of useful files, as well as superb links about VMU-programming here: http://www.franken.de/users/deco/myfiles/myfiles.htm
For all you hex-freaks out there, keep in mind that the CRC is stored at offset 64 in the file. The only way to fix the CRC at the moment is to use the programs you can find at the link above. They're called dci2vms.exe and vms_crc.exe. When you modified your DCI-file convert it to VMS-format by using dci2vms.exe, then check the checksum by using vms_crc.exe and hex the new found crc into the DCI file at offset 64.
A lot of cool tutorial can be found at GameFAQs
Special thanks belong to b54 who completely disassembled his cable and card to tell me how to wire it.